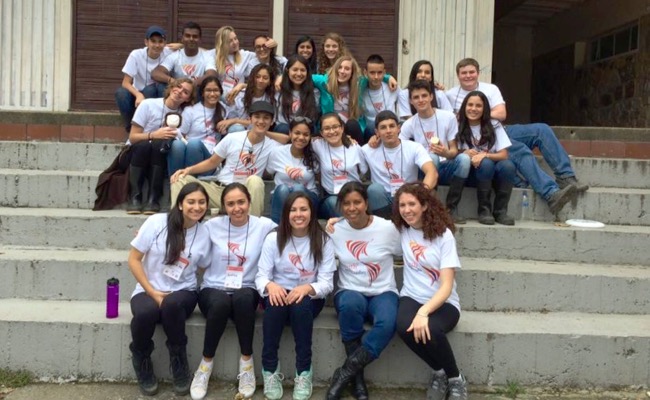 2016 Youth Ambassadors Program, U.S. and Colombian groups.
Life-changing. It can be difficult to pinpoint the precise moment when your life changed, when an event occurred that undeniably altered the course of your future. Yet mine is easy: being a Youth Ambassador was life-changing. 
 
Four years ago, I was accepted to Partners' U.S. State Department-funded Youth Ambassadors program to Colombia as a high school sophomore. I applied for the program because the Latinx community was growing in my home state of North Carolina, and I wanted to better understand how I could best be an ally and connector of the Americas.
Once accepted, I was surprised, excited, and nervous, all of those feelings that usually come with stepping outside of your comfort zone. We prepared by attending virtual webinars about important issues involved with travel and international experiences, such as the white savior complex — asking ourselves "what biases do you implicitly hold and which issues are important to hold close within your self-awareness during your interactions" — to foster racially, ethnically, and culturally aware mindsets. This was an incredibly important practice to instill in and model for young travelers and explorers of the world.    
U.S. Youth Ambassadors arriving in Colombia.
While in Bogotá, Colombia, we met 10 Colombian youth leaders and participated in workshops dedicated to peacebuilding, intercultural communication, diplomacy, youth leadership, and service. We learned about the history of Colombia and the challenges facing its youth. The opportunity to interact with our Colombian counterparts was impactful as we all grappled with similar struggles and hopes for our countries and our regions. This Youth Ambassadors opportunity set me on a path toward citizen diplomacy, global leadership, mental health advocacy, and goodwill.    
U.S. Youth Ambassadors group in Santo Tomas, Colombia.
After this amazing opportunity, I craved more places, different cultures, and global friendships. I ultimately decided to take a gap year and participate in another exchange, this time through the Rotary Youth Exchange Program for a whole year. I found out Iquitos, Peru would be my new home a couple of months before leaving. Naturally, I began to research. My eyes widened as I scrolled through images of vast rainforest, magnificent biodiversity, and a city of about half a million people nestled in the middle of it all. The Amazon Rainforest would be my backyard for the next year of my life.  
Similar emotions to those that led up to my Youth Ambassadors experience arose, although this time, thanks to Youth Ambassadors, I was better equipped to handle them. I knew they were normal and would allow me to grow and step outside of my comfort zone.    
In Peru, I was able to utilize many of the skills and practices that we learned in the Youth Ambassadors Program. I kept an open mindset as I studied at a local high school, participated and organized local Rotary and Interact Conferences, and led and volunteered for community service projects including a preschool renovation project, mosquito net campaigns, street clean-ups, and a children's health center occupational therapy program.
I built true, lasting global friendships and exchanged unforgettable moments with my Peruvian friends, families, and peers. I gained a deeper realization of the importance of communication and how culture, language, place, and upbringing influence our perspectives. 
Katerina with two fellow exchange students and members of Peruvian Rotary clubs
. 
One of these serendipitous communication moments happened one evening with my host dad. In Spanish, if you want to say that you are sleepy, you can say, "tengo sueño" which directly translates to "I have dreams." I think this direct translation in English is such a sweet way of saying that you're tired. As my host dad liked to practice his English, he said to me, "Katy, you want to have dreams?" I smiled because I wanted to respond: "I'm living my dreams right now," but I thought that might be confusing. So, I just responded that yes, indeed, I was sleepy.  
 
With one month left to close out my year in Iquitos, I was thinking about how in a couple of months I would be on my way to my first year at Barnard College of Columbia University. The next thing I knew, I bumped into a Barnard graduate who had been spending some time in the jungle for various projects. If signs from the universe do exist, I think that would be the prime example.  
With the year behind me, I cried my way back to the U.S., out of sadness but also out of great gratitude. I traded the Amazon jungle of Peru for the concrete jungle of New York City to study at Barnard. Meeting that Barnard grad, I felt more at peace with the upcoming transition, and it almost gave me a bit of closure. It was as if Iquitos, my second home by that point, was giving me its blessing to move on and use what I learned to continue to promote peace, understanding, and goodwill.  
Airport departure in Peru with friends from Rotary and school.
As I made my way through my first year at college, I found myself in a Zumba class, missing the Latin dances I had learned in both Colombia and Peru — bachata, salsa, merengue, and cumbia. I looked to my left and was reunited with a fellow Youth Ambassador from my same program who also attended Barnard! More than five years later, we were shocked to find multiple worlds colliding and were amazed at the lengths to which Youth Ambassadors continued to touch our lives.  
I am now studying Psychology, Spanish, and Latin American Studies, as well as Science, Ethics, and Policy, many of my interests in the world that began in Colombia. I'm still exploring (as I always will be) and figuring out what career I might want to pursue, but I know the core of those international experiences — cross-cultural understanding, peacebuilding, international friendships, and global mental health advocacy — will guide me in whatever professional route I choose.    
Move-in day at Barnard in New York City.
In 2020, as a second-year undergraduate student, I then went on to apply for an internship with Partners of the Americas and happily accepted the position as an intern with the Education and Global Citizenship Unit. I am now working alongside an incredible team, including my Youth Ambassadors leader, Summar Lyons who has taught me a whole new side of international exchange and development. I have gained a newfound appreciation for those working to create the same exchange opportunities that I was afforded.  
U.S. Youth Ambassadors group in Washington D.C. at the Partners headquarters alongside program coordinators Summar Lyons and Abraham Cisne.
As I circle back, what I find myself thinking about most are the moments when my different worlds as a Youth Ambassador in Colombia, a Rotary youth exchange student in Peru, an undergraduate student in NYC, and an intern at Partners, have collided and solidified my passions and drive for more international experiences. From meeting a Barnard grad in Peru, to reacquainting with a Youth Ambassador alum and friend in NYC, and then to working with the same unit that organized that initial exchange to Colombia, I have truly come full circle.
Katerina hiking in the Andes.
One of the keys to having such rich international experiences has been to ask questions. Ask about the culture. When the random action of a person perplexes you, ask for someone's viewpoint. If we are conscious of the way we navigate conversations and encounters, we can gain the most out of the exchange and strive towards empathy and understanding.  
   
So, why exactly was being a Youth Ambassador so life-changing? It gave me tools to cultivate intentionality and empathy in all of my exchanges, the ability and confidence to speak and listen in a second language, ignited an interest in diplomacy and mental health, and gave me the curiosity to continue exploring the human experience both at home and abroad.