Partners of the Americas' Farmer-to-Farmer volunteer Rebecca Roebber traveled to Panama to support La Asociacion de Profesionales y Tecnicos Ngäbe - Buglé de Bocas de Toro (APROTENG). Rebecca spent her two weeks in Panama training a group of women on marketing and the production of cocoa by-products. The local women are participants of Partners of the Americas' EducaFuturo program, which focuses on reducing child labor in the region. In a joint effort to improve family livelihoods and reduce child labor, EducaFuturo and Farmer-to-Farmer are working together to build the local capacity of community members in Changuinola, Panama. Below Rebecca describes her experience and offers a glimpse of the local culture.
Cacao is grown locally in the province of Bocas del Toro, Panama and has historically been sold to first world countries who produce the chocolate. This has made it very difficult for cacao farmers to make a living. Through the Farmer-to-Farmer program, I had the opportunity to work with a group of indigenous Ngäbe ("no-bay") women to create finished chocolate products as an additional way of generating income to support their families.
Traditionally, the Ngäbe people make and drink chocolate for its medicinal properties and to give them strength.Many of the local women have memories of their grandmothers roasting the cacao over a fire to make chocolate, but most had never learned how to make chocolate themselves.
After learning the basic steps for making chocolate, the women worked together as inventors to create unique recipes. Their chocolate included ingredients like salt, cinnamon, fried plantains, vanilla and coconut. They designed a label with a cacao tree with their story and ingredients on the back. They also decided to organize themselves into a group called Mery Nöba, which means women chocolatiers in the local dialect. As part of the process of forming a group, they voted on a directive board.
At the beginning of my assignment I was unsure of whether or not the women would elect to work collectively or take the knowledge they had learned from the workshops and work individually. The women were skeptical of working with one another at first but ended up finding a real sense of community over the course of the training. That was the most empowering part of the project. They were so excited by what they were learning that they would continue working into the evenings after the workshops ended each day. Not only are they united and proud of the products they produced, but they are also carrying on the traditional practice of making chocolate.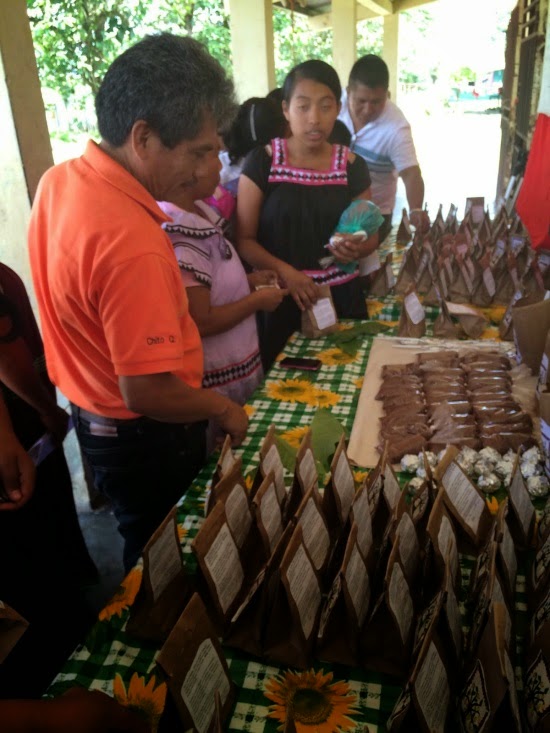 There are still opportunities to continue supporting this group in refining their products and seeking out locations where they can sell their products. The progress they made in two weeks, however, was very impressive. By the end of the training, people in the neighborhood were curiously poking their heads in and were ready to purchase some of the groups' handmade artisanal chocolate.
EducaFuturo aims to significantly reduce child labor in Ecuador and Panama, especially among Afro-descendants, indigenous, and migrant populations. EducaFuturo improves educational outcomes for children and adolescents involved in child labor and increases family income so that households do not need to rely on the work of children for survival. Funding for this project is provided by the United States Department of Labor. This material does not necessarily reflect the views or policies of the United States Department of Labor, nor does the mention of trade names, commercial products or organizations imply endorsements by the United States government.
As aligned with Feed the Future, the U.S. Government's global hunger and food security initiative, Farmer-to-Farmer works to support inclusive agriculture sector growth, facilitate private sector engagement in the agriculture sector, enhance development of local capacity and promote climate-smart development. Volunteer assignments address host-led priorities to expand economic growth that increases incomes and improves access to nutritious food. Read more articles on this topic at Partners' Farmer-to-Farmer blog.